Fingertip Pulse Oximeter Blood Oxygen Sensor
Free Shipping
Free standard shipping on US orders
Estimated to be delivered within 3-5 business days.
Shipping Costs & Tax
1. Free Express Shipping on all items to the United States.
2. $20 Shipping Fee to Canada.
3. $50 Shipping Fee to Mexico.
4. $150 Shipping Fee to India.
5. $80 Shipping Fee to Israel.
6. $30 Shipping Fee to Rest of world.
7. No sales tax.

Shipping Locations
1. Shipping is valid for shipping addresses in the United States, Canada, Mexico, Europe, etc. Excluding Peru, Alaska, Hawaii, Puerto Rico, and Guam.
2. We do not deliver to PO Box addresses. Please leave a specific address when you place an order, to make sure the package can deliver successfully.
Shipping Methods
All orders of oxygen concentrators are shipped out via UPS or DHL or FedEx Express.
All orders of accessories are shipped out via USPS or DHL or YunExpress, etc.

Shipping and Delivery Estimates
For Oxygen Concentrators:
Shipping time: 1-2 Business Days
Delivery time: 3-5 Business Days
For Accessories:
Shipping time: 2-3business days
Delivery time: 10-15 business days
customers are viewing this product
Features:
Larger and Clearer LED Display
More Fast, Accurate and Reliable Detection
User-Friendly Design
Energy Saving and Environmental Protection
Hand hold pulse, convenient and easy to use.
Small in volume, light in weight, portable to measure it anytime, anywhere.
Two directions LED display,and automatic shutdown after 8 seconds when finger is removed saves batteries.
Accurate determination of your pulse rate and saturation.
Low power consumption,reliable accuracy and durability.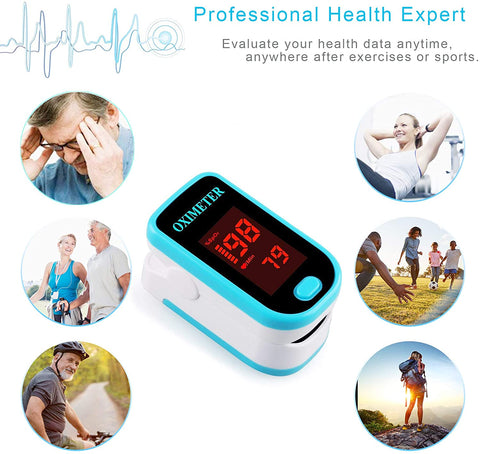 Specifications:
Screen: LED display
Power Supply:2 Pcs AAA Batteries(Not included)
Size:5.7x3.1x3.05cm
SpO2:
Measurement range: 70 ~ 99%
Resolution: ± 1%
Pulse rate:
Measurement range: 30 ~ 240 bpm
Resolution: ± 1%
Package Included:  

1* Fingertip Oximeter
1*Anti-lost strip
1*Manual 

Shipping Costs & Tax
1. Free Express Shipping on all items to the United States.
2. $29.99 Shipping Fee to Canada.
3. $50 Shipping Fee to Mexico.
4. $150 Shipping Fee to India.
5. $80 Shipping Fee to Israel.
6. $30 Shipping Fee to Rest of world.
7. No sales tax.

Shipping Locations
1. Shipping is valid for shipping addresses in the United States, Canada, Mexico, Europe, etc. Excluding Peru, Alaska, Hawaii, Puerto Rico, and Guam.
2. We do not deliver to PO Box addresses. Please leave a specific address when you place an order, to make sure the package can deliver successfully.
Shipping Methods
All orders of oxygen concentrators are shipped out via UPS or DHL or FedEx Express.
All orders of accessories are shipped out via USPS or DHL or YunExpress, etc.

Shipping and Delivery Estimates
For Oxygen Concentrators:
Shipping time: 1-2 Business Days
Delivery time: 3-5 Business Days
For Accessories:
Shipping time: 2-3business days
Delivery time: 10-15 business days
Safe Shopping Guarantee

At OxygenSolve, we prioritize the safety and security of our customers. We understand the importance of protecting your personal and financial information while shopping online. That's why we have implemented stringent measures to provide you with a secure and worry-free shopping experience. When you shop on our website, you can trust that:

1.Secure Connection:
We utilize industry-standard SSL/TLS encryption to establish a secure connection between your browser and our website. This ensures that all data transmitted, including personal and payment information, is encrypted and safeguarded from unauthorized access.

2.Trusted Payment Methods:
We partner with reputable and secure payment gateways to process your transactions. These gateways employ advanced security measures to protect your payment information, ensuring a safe checkout process.

3.Privacy Protection:
We are committed to respecting your privacy. Our comprehensive privacy policy outlines how we collect, use, and protect your information. We never sell or share your data with third parties without your explicit consent, and we only use it to fulfill your orders or improve your shopping experience.

4.Account Security:
We take your account security seriously. Our platform enforces strong password requirements, and you have the option to enable two-factor authentication (2FA) for added protection. We regularly update and monitor our systems to identify and address any potential vulnerabilities.

5.Dedicated Support:
Our customer support team is here to assist you with any concerns or issues related to your shopping experience. Whether you have questions about our security measures, encounter any problems, or need help with your account, our responsive and knowledgeable support team is available to provide assistance.

At OxygenSolve, we are committed to providing you with a safe and secure shopping environment. We continuously invest in the latest security technologies and best practices to protect your information. Your trust is invaluable to us, and we will continue to prioritize your security as we strive to deliver an exceptional shopping experience.