US Instock & Free Shipping for US orders.
3-5 business days to deliver.
Accessories: 10-15 days to deliver.
Email address: info@oxygensolve.com
We will reply to you within 12 hours.
Read more
View ALL Portable Oxygen Concentrators
We offer top-rated pulse dose and continuous flow concentrators—all small and lightweight so they can be taken with you wherever you go. Our portable oxygen concentrators are an affordable solution for people who need supplemental oxygen on a regular basis.
Shop Now
View All Home Oxygen Concentrators
Our home and stationary oxygen concentrators are powerful, energy-efficient, and low-decibel. They're also the most affordable on the market. You can choose from home units in many sizes and flow settings that fit your oxygen needs. We have the best value for money!
Shop Now
View All Home and Portable Bundles
With our portable and home oxygen concentrators, you can enjoy your excursions in the RV, on the road, or wherever you want to spend your time.With this bundle deal, you'll get both units at an even better price than if you were buying them separately!
Shop Now
Top 1
Portable Oxygen Concentrator NT-05 + an Extra Battery
296 were sold in Oct
▪3.3 lbs lightweight
▪3L continuous flow
▪Charging in the car
▪Working time: Up to 4H
$418
Shop Now
TOP 2
Portable Oxygen Concentrator NT-05
209 were sold in Oct
▪3.3 lbs lightweight
▪3L continuous flow
▪Extra batteries are in stocks
▪Working time: Up to 2H
$399
Shop Now
TOP3
Portable Oxygen Concentrator NT-02
187 were sold in Oct
▪93% ±3%
▪4.85 lbs lightweight
▪1-5L dual mode oxygen flow
▪Working time: Up to 4H
$999
Shop Now
My husband is so happy to have his new machine. He is free now to do the things he wants to do. This is a wonderful product!! It performs just like the online information and the manual says, portable, quiet, and easy to use. Love it! I am so grateful I found this product for him.
-Kris LaBrake, United States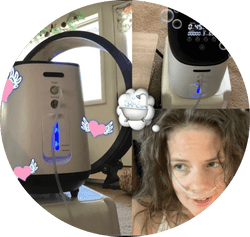 Works Great & thank you for the Discount Code & the Link for Replacement Filters! Using just 10min Daily at 4L for Health Treatment from Second Hand Smoke Exposure. I have Anemia & this Machine gives me a good dose of therapeutic Oxygen. Very pleased with my Purchase.
-Leah Selman, United States
I credit this machine for saving the lives of several orphan opossums (I'm a licensed wildlife rehabilitator.) One little girl in particular was pale and listless. After adding extra oxygen to their enclosure, she perked up remarkably, and now they all jostle for position at the food bowl. AWESOME machine. Literal lifesaver. Thank you!!
- Donna Fritz, United States